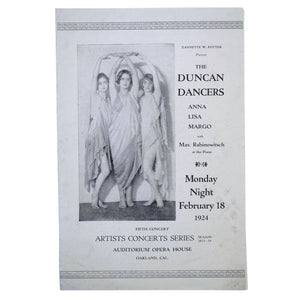 [Dance / Performance Art].
Zannette W. Potter Presents the Duncan Dancers ... Monday Night. February 18, 1924. [Drop title].
Regular price
$150.00
$0.00
Oakland, California: Auditorium Opera House, 1924. 8-3/4 x 5-3/4 inches. Bifolium, [4]pp. White stock printed in black, with halftone illustrations. Light soiling. Good.
Program for a concert starring Anna Denzler, Lisa [Elizabeth Milker], and Margo [Gretl Jehl], the adoptive daughters of Isadora Duncan. The three women were half of the group nicknamed "the Isadorables," the six most-talented girls at the Isadora Duncan School of Dance in Grunewald, Germany in the early 1900s. From 1905-1920, the girls and, later, women, performed with and for Duncan, and were highly regarded dancers in their own rights. In 1920, they officially broke from Duncan and some of the women began going on tours, usually in pairs or, in this case, as a triad.
Also included is a brief advertisement for Nisei tenor Seijiro Tatsumi, who was slated to perform at Ebell Hall, on Harrison Street in Oakland, on February 20.
Not located in OCLC
---
More from this category