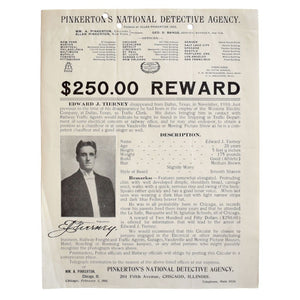 [Crime / Texas].
Pinkerton's National Detective Agency. $250.00 Reward [for Edward J. Tierney].
Regular price
$125.00
$0.00
Chicago: Pinkerton's National Detective Agency, 1911. 11" x 8-1/2". Circular, printed recto only. White stock printed in black, b&w illustration. Three holes punched to upper portion of leaf, slightly affecting text; old folds. Very Good.
Wanted circular for Edward J. Tierney, who, according to a contemporary newspaper account, "is the 'classiest' looking of all the criminals that the police have been asked to look out for" (Bridgeport Times and Evening Farmer, Feb. 23, 1911). Wearing a dress coat in the photo provided for the circular, Tierney worked as a traffic clerk for the Western Electric Company in Dallas before disappearing in November, 1910. The reader is warned that he "might be found in the Shipping or Traffic Department of some electrical concern or railway office, and he may also endeavor to obtain a position as a chauffeur or at some Vaudeville House or Moving Picture Show as he is a competent chauffer and a good singer as well."
Oddly, the 28-year-old Tierney is never implicated in a crime here, nor does an initial review of contemporary newspapers reveal that he was ever charged with one, much less convicted.
---
More from this category