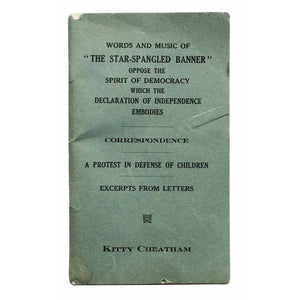 [Music / Christian Science]. Cheatham, Kitty.
Words and Music of "The Star - Spangled Banner" Oppose the Spirit of Democracy which the Declaration of Independence Embodies...
Regular price
$75.00
$0.00
(n. p.): (1918). 6" x 3-5/8". Stapled grey-green wrappers printed in black. Wear and small losses/tears to wrappers; small stain to front wrapper; light staining from staples to some inner margins. Good.
A grouping of post-WWI patriotic writings and correspondence by the singer and monologuist, arguing that American exceptionalism, pacifism, and, in her view, Christian Science represent the "spirit of democracy" more than "The Star Spangled Banner" does. Originally from Tennessee, Cheatham trained in Europe and became quite popular there and in the US, performing regularly for members of the royal family in England; she was a friend and follower of Mary Baker Eddy.
The other titles in the booklet are: "Corresondence Resulting from the Circulation of the Pamphlet Entitled Words and Music ..."; "A Protest in Defense of Children" (also about the "Star Spangled Banner"); and "Excerpts from Letters".
OCLC is wrong on this one: many of the institutions noted as having only the digital copy appear to also have physical copies. Still, scarce in the trade.
---
More from this category